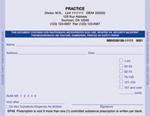 ATTENTION DOCTORS
We now offer the new California Security Prescription Pads. These are required by law starting January 1, 2005. Click on the prescription pad to download an order form.
Even when we close our doors and go home at night, we're still just a point and click away. Our Customer Service Area provides clients with 24-hour access to our services. From here you can request an estimate, place an order, transfer a file, or review a proof, all from the convenience of your office or home.
We want to make the process of doing business with us as easy as possible. That was the whole point of building this Web site in the first place. Just select your destination from the provided links to get started.
Printed with us before? View and reorder your documents in just a few clicks.

Learn what we can do for you.

Send your print file electronically.

View a proof of your document online.

Let us help you plan your next project.

Ready to print? We're ready for you!